People are loving new gin-infused yoghurt
Alcoholic produce is nothing new. Jack Daniels-glazed ribs, rum and raisin ice cream and liquor-filled chocolates are a few of many combinations that have been enjoyed for as long as can be remembered.
Gin-flavored produce and the spirit itself have recently witnessed an increase in sales in the last year. The aptly-dubbed "Ginassance" has seen sales figures surpass over $1bn.
Gin's hip reputation has come a long way from the spirit's age-old nickname as "Mother's ruin", drunk by Britain's poorer classes and often thought to bring on a miscarriage if consumed while in a hot bath.
The appeal of gin-based products is believed to be due to gin's neutral-flavoured alcohol, married to the aromatic botanicals used to flavor the alcohol, make for a good base to bring out underlying flavours in both savoury and sweet foods. The main botanic in question is juniper, which tastes like pine.
Chefs now are using gin to enhance the flavor of foods, having mastered the specific botanical additions and complex combinations to make for tasty masterpieces.
In terms of produce, gin-flavored popcorn, gin-infused salmon and gin sweets have become very popular. British supermarket chain Sainsbury's, released a gin-flavored yoghurt this summer, and it has caught a lot of attention as more people choose to have more gin infused food throughout the day, including breakfast.
The yoghurt tubs contain 0.25 percent alcohol and Nick King, a spirits teacher at the Wine and Spirit Education Trust lightly warns us: "They're not necessarily very strongly flavoured - not least because if it's in the yoghurt aisle and it's notably alcoholic, there might be confusion at the till."
Nicola Bramley, a food development chef at the supermarket, says Sainsbury's premium gin sales are rising by 25 percent year-on-year and claims the trend "isn't limited to your glass of G&T".
"There's plenty more to come," she says, adding that the retailer has plans to introduce a smoked salmon paté with a gin and tonic glaze.
Experts credit the success of gin-based products to consumers in their 20s and 30s. Nick King suggests the booming gin market is because this group tend to buy anything quirky. Manufacturers are also bending to the trend because they realise themed food goods make their products more enticing. Sometimes, there is no need to find the perfect match for a flavor if it sells well enough.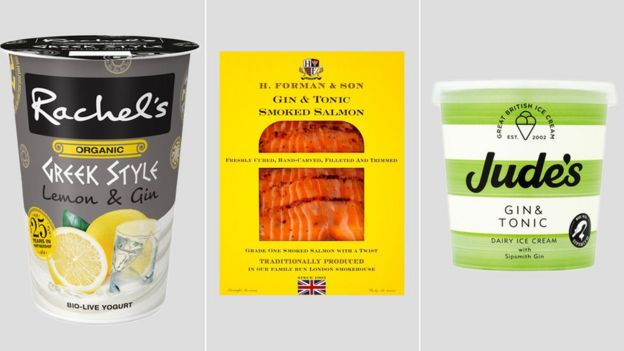 "We're looking at a generation that's much more interested in flavor and interesting and exciting things. As an idea, it makes perfect sense in cashing in on and appealing to those people,"
The levels of gin in the products vary, but to be able to detect the flavors of gin and even get drunk on them would be a significant feat. Nick King says "you'd have to be some kind of god-like taster" to fully distinguish gin from the product.
With this in mind, supermarkets and grocers are confident people will tuck into gin-flavored food as the rise of gin continues.