Applebee's is selling margaritas at $1 for a whole month
Applebee's has had a pretty rough 2017. As one of the biggest names in the casual dining sector, it's worrying to hear that it's struggling. Woe for Applebee's hit it's peak when the Neighborhood Grill & Bar found itself stuck in one of the most talked about headlines of the year: "Millennials are killing chains like Buffalo Wild Wings and Applebee's."
Granted, Applebee's is only one of many things millennials have been accused of killing, and the accuracy of all of these claims is up for debate, but it is hard to argue with the claim when the chain has little to brandish in response.
The answer? Along with the taco deals on National Taco day, Applebee's has stated that this month is Applebee's Neighborhood Appreciation Month. What does this mean? The restaurant will be serving Dollaritas for all of October. If you're questioning what you just read, don't because it's a real word.
Applebee's will be selling margaritas for a dollar nationwide, aptly calling them Dollaritas. Don't worry, I'll also give you time to start looking for spare change.
According to E!, the restaurant chain is hoping to turn into a bar destination. Patrick Kirk, Applebee's vice president of beverage innovation is confident the plan will work saying: "We focus on our food a lot, but 'bar' is in our name, and it is an integral part of what makes Applebee's a great neighborhood destination".
Kirk added, "our $1 margaritas in October give us a chance to show our guests a little love, giving them a totally unbeatable offer as a gesture of our sincere appreciation for their patronage."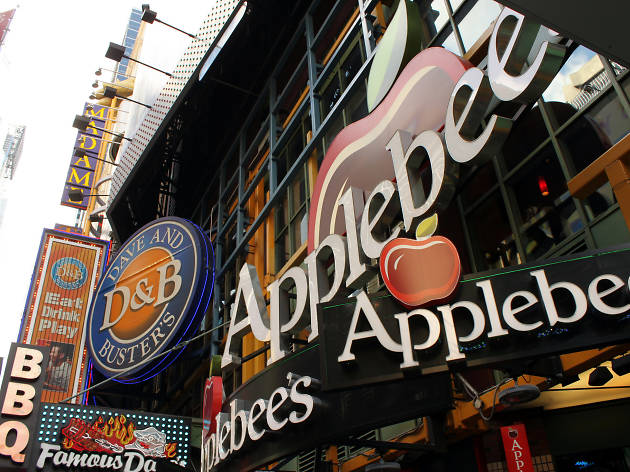 There is a slight catch for New Yorkers though as none of the locations within the city limits are participating in the deal. The Times Square Applebee's on 42nd Street, for example, will not be shilling dollar margs this month but will be selling them for their usual price of $13 instead.
The biggest Applebee's in the world, on 50th Street in NYC, is not participating in it either, selling the drinks for a cool $14. In fact, the cheapest Applebee's margarita going in New York City comes in at a respectable $7.99 (in respect to NYC drinks in general, not the Dollarita, this is just plain unfair).
For any New Yorker who loves washing down two entrees and an appetizer (for just $20) with the timeless glory that is an Applebee's margarita, this is pretty bad news. New York is goddamn expensive as it is. Being exempt from the deal just add salts to the wound as opposed to the rims of glasses.
Even as New Yorkers mourned, the rest of the country took to Twitter to rejoice. As you can imagine, the reactions were priceless and they kind of make me wish I could enjoy this one dollar experience with them.
The real ramifications won't be known until after October is over, although I can imagine many people, including millennials, won't want this October to end. Will Dollaritas really boost revenue or just boost the sale of cheap booze and cause chaos in all of its car parks? Whatever happens, Applebee's can bask in its lime-green glory for now.