This game changing new ice cream is adding some magic to your post workout snack
Picture this. You're at the gym, and you're having the workout of a lifetime. Weights, the treadmill, the rowing machine; all mere instruments in your orchestra of health and fitness, all perfectly in tune, all played to concerto quality. Work up a sweat. Take a bow. You crushed it.
Then, after that you treat yourself for doing so well - probably with something sweet and or cheesy - before you know it, you're back to square one, slightly larger, and more even more depressed that you're not a fitness model yet.
Whilst you may have the recipe right - eating well the majority of the time and allowing yourself to have a naughty treat once in a while - the ingredients you've been cooking with, specifically the treats you've been rewarding yourself with, may be a little askew. How can you treat yourself once in a while without ruining all of your hard work?
Breyers. That's how.
Breyers is a delicious and revolutionary ice cream maker and their latest offering, Breyers Delights, is perfect for when you're plodding through your post-workout meal of brown rice, grilled chicken and broccoli, and you need something a little more fun to go with all that nutritious (but let's be honest - boring) food you're eating.
It's high in protein, but much lower in sugar content, meaning you can chow down without any of the guilt. Not only does it tastes great, but it contains only 290-350 calories per tub, meaning you can have it as part of a balanced diet, not to mention as a decadent treat once you've pushed yourself to the limit at the gym.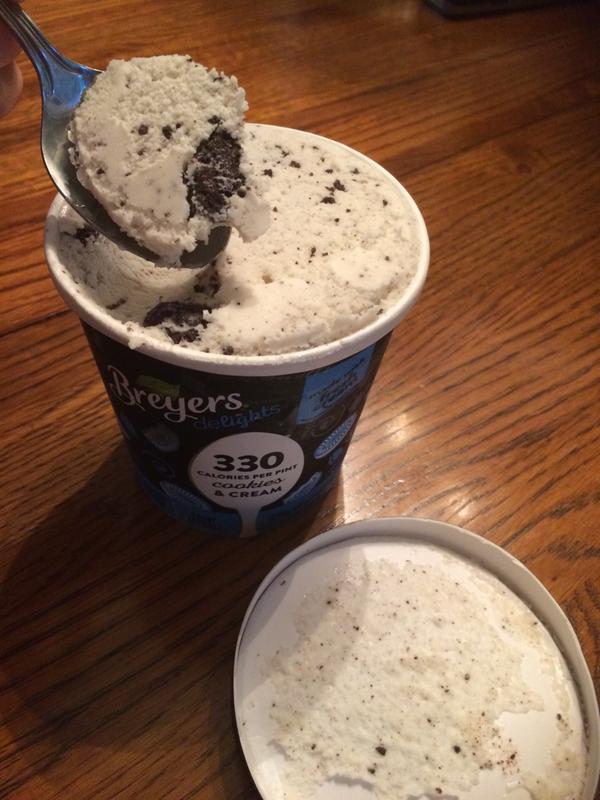 Breyers Delights is great after any kind of physical exertion, because its high protein content keeps you full, and gives you the energy you need to continue living your best life once you've hit the showers, left the gym and continued on with your big day. Breyers Delights tubs contain between 38 and 57 percent fewer calories than similar ice cream products, not to mention a whopping 45 to 60 percent less sugar per 100g.
On top of this, at 290-350 calories per tub (I cannot stress enough how this is per tub), you could have delicious treats while also shredding yourself a new body and I think that's pretty sweet. 45 to 60 percent less sweet, sure, but you'll barely notice. Treating yourself to a little Breyers snack in between meals can be just as guilt-free, and it'll fill you right up too.
Breyers Delights come in four fantastic flavors: cookies and cream, smooth vanilla, creamy chocolate and mint chip. All of them are made with fresh cream and sustainably farmed vanilla dairy and chocolate. If you ask me, though: having tried them all, cookies and cream is the stand-out, in my opinion.
Just imagine it: you're going through a breakup, but between watching Bridget Jones on repeat underneath the blankets and heading to the gym to craft that Revenge Body, you can chow down on the same snack without anything added to your guilt, or your waistline. What's not to like?
Are you one of those people who gets bogged down in new diets, all the while wishing they could enjoy the good old comfort food they used to enjoy? Now, you don't have to choose. After a gym session, we've been told that your snacks can either be delicious or nutritious, but Breyers is here to tell you: your post-workout snack can be two things.
Nu-licious? De-tritious? Probably neither of those, but Breyers Delights is a reminder that sweet dreams are made of this. Who am I to disagree? Get them at ASDA right now, for the nominal fee of just £2.50.