This is the story of 2017, as told through Donald Trump's weird eating habits
Safe to say, it's been a very wild first year for the United States 45th President, Donald Trump. From nuclear war-threatening tweet storms to investigations into alleged Russian collusion, each day of 2017 has unfolded with a new surprise at the Oval office.
Oddly enough, the food world has not been immune to those changes. The Tump administration have put their hand into a lot of things the past 365 days - for better and for worse - all of which have sparked debate and controversy.
The administration has tried to tighten policies regarding immigration and undocumented workers, weighed in on tip pooling and the rights of bakers being able to refuse serving gay people. Like I said, very wild. A more personal look at Trump's eating habits also reveals a lot too: he loves his fast food and his steaks well-done as we all know. With all this in mind, here are Trump's greatest dining moments of 2017.
1. Inaguration cake
After the famously under-attended January 20 inauguration, the then-new president closed off the day revealing an inauguration cake that was an exact copycat version of President Obama's 2013 inauguration cake.
Tiffany MacIssac, owner of Buttercream Bakeshop, later explained that she suggested different designs for the cake, but was told to just replicate it. At the same time this news ran, there were also hints of the White house kitchens being stocked up on Lay's potato chips.
2. Trump at the BLT Prime
Earlier in the year, Trump journeyed outside the White House to the comfort of BLT Prime, the high-end steakhouse located inside the Trump International Hotel in Washington, D.C. This was allegedly said to have happened during a press conference, so it ended up sparking a lot of controversy.
That day, he did not dine alone: he was met by British politician Nigel Farage, Florida Gov. Rick Scott, first daughter Ivanka Trump and her husband Jared Kushner, Secretary of State Rex Tillerson and his wife, Renda. The table split three jumbo shrimp cocktails, and it was reported Trump ordered his signature well-done steak and ketchup.
3. McDonald's flip
The president's favorite fast food chain, McDonald's, briefly turned on him in March when the company's Twitter account was allegedly hacked. A tweet to the president read: "@realDonaldTrump You are actually a disgusting excuse of a President and we would love to have @BarackObama back, also you have tiny hands." They even pinned the tweet.
4. Fine dining with Xi Jinping
Trump wined and dined Chinese President Xi Jinping at his Mar-a-Lago mansion in Palm Beach, Florida. Here, he boasted about launching a missile strike on a Syrian air base, while feasting on "the most beautiful chocolate cake in the world." Also in April, America learnt of the button Trump had installed at his oval office desk that enabled him to summon Coca-Cola at will.
5. Meeting the Pope
During a visit to the Vatican in May, Pope Francis reportedly joked to Melania about her husband's calorific diet. May was also the month that we discovered that Trump gets truly special treatment at the dinner table, all just for being president. Some of which includes getting extra scoops of ice cream at dessert.
6. Bastille Day
While in Paris for Bastille Day, Donald and Melania opted for more sophisticated fare: a Michelin-starred dinner at chef Alain Ducasse's Le Jules Verne restaurant inside the Eiffel Tower. Joined by the French president and his wife, they had pâté, Dover sole, beef filet with brioche and foie gras, and chocolate soufflés. Dinner there is around $250 per head.
7. Sheet-caking 
During a press conference intended to address violent clashes with white supremacists in Charlottesville, Virginia, President Trump found time to brag about Trump Winery. In response, comedian Tina Fey suggested sheet-caking: supporting a minority-run bakery - as a way to deal with anxiety and anger about the country. Sparking more baked good-fueled political controversy.
8. Homemade McDonald's and Asian beef
In November it was reported that White House staff were trained in the art making McDonald's style Quarter Pounders and apple pies, per Trump's special request. During his first major tour of Asia, Trump had a burger delivered from Minato's Burger Shack, and had Korean beef ribs and 360-year-old soy sauce in South Korea.
9. The full report 
Closing out the year, we got full reports of what Trump's day-to-day diet during the campaign and his current presidency looked like. As well as guzzling a dozen Diet Cokes a day, it was reported he relishes "well-done steak, salad slathered with Roquefort dressing and bacon crumbles, tureens of gravy, and massive slices of dessert with extra ice cream." It doesn't look like his diet is going to change anytime soon, and we're not sure how to feel about that.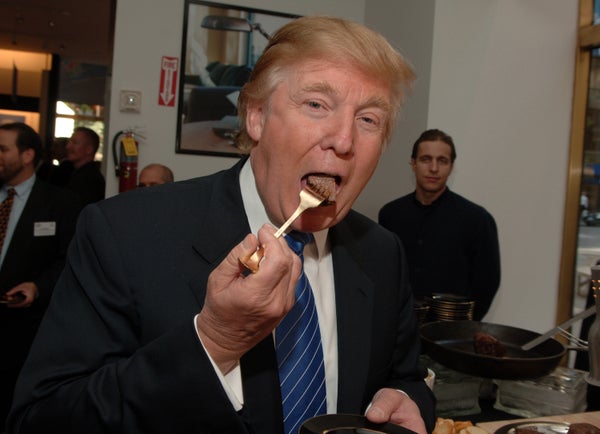 Who would have thought a year ago, that the president could give us a full year of food stories? I am nothing but thankful for Donald Trump in this respect, as otherwise, I would have nothing to talk about most of the time. Here's to more of the same in 2018.