Shakira's Personal Trainer Reveals Her Genius Trick For Staying In Shape
Unless you are well and truly living under a rock, you will definitely have heard of the incredibly talented pop star that is Shakira. I mean, she is undeniably the most renowned performer from Columbia to have made a name for herself all around the world.
Shakira is known for her strong voice, unique tone and incredible dance moves (those hips don't lie, after all). Born in 1977 in Barranquilla, the capital of Colombia's Atlántico Department, her talent became obvious from a very young age. And, in fact, Shakira's debut album was released when she was only 13 years old!
It was only with her fifth studio album (her very first one in English), however, that the 'Underneath Your Clothes' singer became famous worldwide. And she's been flying high ever since.
Whether Shakira's performing on stage or filming a music video, it's pretty obvious she has real pride in her body and loves to show off both her insanely toned figure and her sensational belly dancing skills. Now, after her smash album El Dorado, she is gearing up for a new world tour.
Shakira is hitting the gym more than ever,  juggling two little kids and spending time with her longtime partner, Spanish soccer player Gerard Pique, but no matter how busy she is, the Colombian singer always finds time to eat healthy, according to her personal trainer Anna Kaiser.
Speaking to E! news, Kaiser revealed all the work that goes into making Shakira, Shakira (spoiler alert: it's a lot) and she revealed one simple secret behind her regimen that keeps her so healthy. As we all know, Shakira's hips don't lie and it would be cool to find out why.
"Currently I am getting her prepped to go on a world tour," Kaiser said, "which means we are working on increasing her endurance and stamina because she's going to be on stage for two hours at a time, singing and dancing!"
Kaiser said: "Shakira eats three meals a day ("breakfast, lunch, and dinner with a protein in every meal and fresh veggies or small amounts of low glycemic fruit"), and for a snack mid-afternoon, she reaches for . . . soup."
All fairly normal, right? You don't need to pay for a trainer to know that this is the best way to lose weight and live healthily. But Kaiser reveals that soup helps the superstar stick to what is admittedly a difficult regimen to follow.
Kaiser continues, "Instead of grabbing a sugary snack, Shakira has some broth. At the four o'clock hour, when people are craving caffeine and a cookie, soup is a really great option because it fills you up and feels like a meal so it can keep you going until dinner, but it's not hugely caloric."
This isn't to say the singer doesn't indulge every once in a while, but she's definitely not grabbing processed foods. "We would do a cacao topped rice cake or half of a protein bar, or I got her some chocolate tea which kind of feels like a treat with some dehydrated fruit," Kaiser said. "So it's about allowing yourself to have a lot of different things in small quantities and keep it as fresh as possible."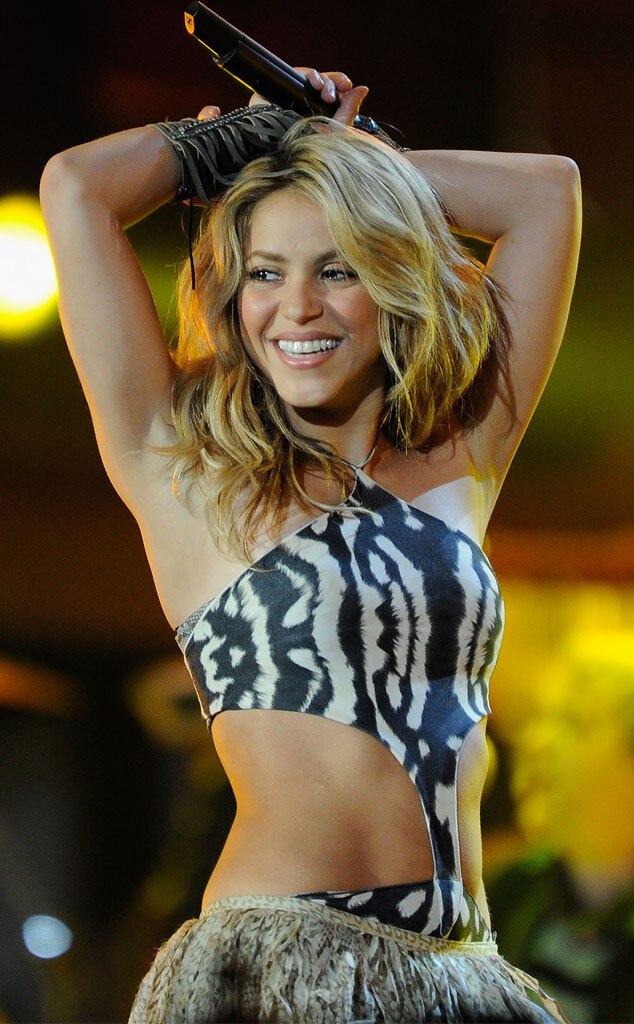 Again, this is by far nothing revolutionary, just the perfect example of what hard work and dedication can lead to: great body and being able to go on tour on top of a hectic home life. The key is nutrition!
The Colombian also works out about five days a week, and all of her workout goals are based around her heart monitor. This is what Kaiser says "keeps her the most focused". The singer loves having a concrete goal, and focusing on individual body parts and form, so she can concentrate on what she's doing and how she's doing it. This ensures she has the endurance to do both a two-hour show and a five-month tour.
Kaiser also created a program that mirrors the HIIT style of Shakira's performances. "The majority of the time, she's performing in an interval-style format," Kaiser said. "She's going for five minutes and then resting, 10 minutes and then resting, then a costume change . . . on and off for hours at a time."
"I want her workouts to complement that," she said. "We are — just like my classes at my studio — working in an interval-style format. Alternating between different types of workouts, different lengths of intervals, and different lengths of time overall."
So the 40-year-old doesn't get bored, Kaiser comes up with a colorful and varied meal plan, and works with Shakira's chef to cook it. "We do some protein shakes, protein pancakes, and I would peel a couple of oranges and slice them up and top them with turmeric and cinnamon. It is pretty much about making it fun and different and also the presentation."
Well, there you have it: evidence that Shakira puts in the work! Now you know the process (and see how easy it is), we can all try to follow it too. Unfortunately, I can't promise to make your hips move like hers do.