Pizza Hut's new stuffed crust is packed with 5 different cheeses
Everyone knows sweet dreams are made of cheese, and dreams really do come true when you're at Pizza Hut. We've been blessed with so many toppings, combinations and sides, it would almost be rude to ask for more.
I can't tell you the number of time I've had at a Pizza Hut buffet. Pulling up with my friends (as a kid or now), not even sitting down before I grab a plate and run for all the slices of pepperoni. Good times.
The only thing that tops Pizza Hut buffet? Getting Pizza Hut Delivery. Trying to recreate that iconic cheese pull usually fails when you're at home, but I never care. How can I when I've got an entire pie in my face? Someone could come and rob my entire house, and I'd be okay with it as long as they let me have my pizza in peace.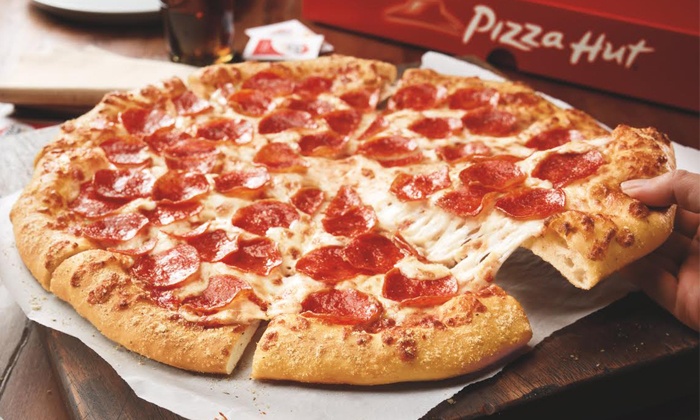 But how do you top perfection? Stuffed crusts, of course! How do you perfect perfection? Well, you try and fail with a few experimental combinations until something sticks. We've had pepperoni or hot dog stuffed crusts, even pretzel stuffed crusts as well. They were all pretty good, but ultimately didn't compare to the OG stuffed crusts (garlic bread crusts come in a very close second).
It's a little hard to top Pizza Hut's classic stuffed crust pizza, but I think Pizza Hut has done it with their newest invention. What does it look like? Jacuzzi-like crust-pockets, filled to the brim with five different kinds of cheeses. Cue absolute pandemonium.
They're calling it the Ultimate Cheesy Crust Pizza, and it will be making its way across American Pizza Hut stores, nationwide starting November 13. The only negative? It's for a limited time only.
The crust consists of 16 little cheese pockets that can be pulled apart from the pizza and include a blend of mozzarella, Provolone, white cheddar, Asiago and Fontina. I don't have to try hard to get you to imagine what all that cheesy goodness would taste like with a few slices of pepperoni.
This isn't the first time Pizza Hut has had a pocket-like crust. In 2013, they released a similar pie, except it only had one type of cheese on it. Even then, it was gone before anyone was able to truly appreciate its cheesy goodness.
Talking to Digital Spy, Pizza Hut's Sales and Marketing Director Beverley D'Cruz said: "the launch of the five-cheese stuffed crust has been developed to cater to consumer demand and we hope all the cheese lovers out there enjoy the latest innovation from Pizza Hut Delivery."
D'Cruz continues: "this innovation is part of our continued focus on improving customer experience. We have a new website and app with delivery tracker and Deal Bot which uses AI to help you find a great deal, and new delivery pouches to keep your pizzas oven hot!"
While Pizza Hut didn't provide an end date on this limited time release, they are coupling the release with merch promotion that includes pizza blankets, mugs and socks, so we could probably expect to see it through the holidays.