New York Attorney General investigating festival that charged $75 for cold pizza
If there's one thing New York is known for - other than its cheesecake - it's pizza.
Whether it's done by the slice, delivered in ginormous boxes; whether it's deep dish, Italian or classic New York style, rest assured, you're in safe hands when you need a pizza in New York.
You may go as far as to say New York City would be one of the best places in the world to hold a festival or two to celebrate this fact and many have come and gone. What was once a poor man's delight, is now consumed lovingly by the entire world.
New York City Pizza Festival was the next in line to boast "an eclectic tasting of the best pizza in NYC", bringing in pizza makers from New York and Chicago for "a celebration of dough, cheese, tasty sauces and delicious toppings".
The festival also promised a tasting competition for the best pizza in New York, wine and other cool amenities to its willing faithful. For $75 you could buy a VIP ticket and receive this and more.
So much hype around the event was built that 30,000 people planned on showing up, but those who actually went found themselves in pizza hell.
Reported to be waiting an hour to gain access to a shady parking lot in Brooklyn, rather than be met with glorious cheesy goodness, massive slices and toppings galore, festival goers were given cold, microscopic slices on tiny hors d'oeuvres-sized plates.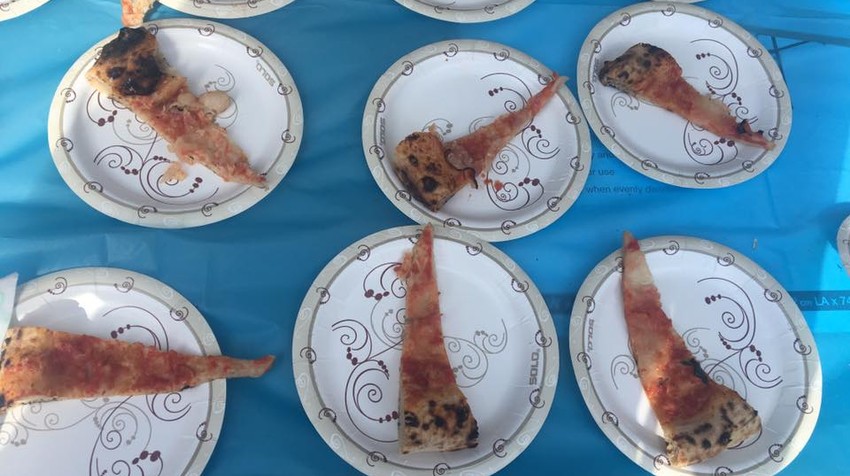 The tents, set up for a horde of vendors, were empty.
Connell Burke told New York publication the Gothamist "It was like the people from the Fyre Festival decided to throw a pizza party".
"I spent 150 total for two tickets. There's three pop-up tents on my left, one where they're taking cold pizzas out of delivery boxes and cutting them... They're small, tiny little slivers of pizza".
It's been only a handful of months since Fyre was in the news for not delivering on their last disaster, the Fyre Festival that promised millennials sun, sea, sand and Kendall Jenner.
Hundreds of enraged pizza fanatics took to Facebook and complained, demanding their money back which prompted New York Attorney General Eric Schneiderman to open an investigation into what went down.
Eric Schneiderman is the states highest ranking law enforcement officer. His office told NBC New York it was concerned about the online complaints from festival goers.
In order for the investigation to be carried out, the office has to look at the number of official complaints filed in.
Ishmael Osekre, who organized the event, would appear to have done this before. Last year, he curated (the verb used very loosely here) the NYC African Food Festival. At the event, hundreds of Yelp reviewers ended up in a little greenhouse in the 90 degrees August heat. They were only given handfuls of food from about 10 vendors when promised more than 25 chefs on the rise.
The pizza festival has apologized for the malarkey and promised to host a make-up tasting but many people just want their money back and rightly so. I can only imagine the size of the garlic dipping sauce.