Kourtney Kardashian's perfect comfort food recipe has absolutely broken the internet
Like anyone who follows a strict, healthy, organic diet, Kourtney Kardashian appreciates a good cheat meal. She says she prefers hearty comfort to a naughty treat or snack, and her perfect comfort food is the humble mac and cheese.
The reality star shared her recipe for the cheesy dish exclusively on her app and with PEOPLE magazine. What's great about this one is that whilst it looks decadent and rich, this particular combination of pasta and cheese is not about to set you into a guilt-filled food coma.
And that's what we want right? What's the point of eating cheat meals for cheat meal's sake? Don't waste your calories on crap (or at least really terrible crap). Eat the foods that quell your cravings for the bad stuff and don't leave you feeling completely self-destructive and terrible. Kourtney agrees, "Who doesn't love mac 'n' cheese?!" she asks.
In her interview with PEOPLE, Kourtney explains, "I use all organic ingredients, gluten-free noodles and non-dairy cheese whenever possible, as my kids and I aren't eating gluten or dairy." Kourtney has three kids Mason, Penelope and Reign who are seven, three and two respectively.
The Kardashian opts for easy substitutes in her recipe to give it her own healthy spin; for example, adding turkey bacon instead of traditional bacon. She also incorporates almond milk for a touch of sweetness, non-dairy cheeses (though you can use the real thing as long as it's organic, she says) and gluten-free pasta.
"I bake this on the top rack of the oven so it gets crunchy on top," she says. "I love the mix of flavors and textures. YUMMMMMMY!" Feel free to add veggies or extra added goodness, but these are the base ingredients you need to keep up with this Kardashian's recipe.
To recreate the recipe right down to the wire, you will need six tablespoons of organic butter, a teaspoon of salt and a teaspoon of pepper, three cups of organic pepper jack cheese (or non-dairy cheese substitute) and three cups of organic mild cheddar cheese (or non-dairy cheese substitute).
You will also need one package of gluten-free macaroni noodles, a teaspoon of dry mustard, five cups of almond milk, half a cup of organic flour and a pack of pre-cooked and crisped chopped organic turkey bacon.
To make this dish start by pre-heating the oven to 350 degrees, then, prepare the noodles according to the package's directions. In a pot, melt butter then add in the flour, salt, dry mustard, pepper and milk over a medium heat.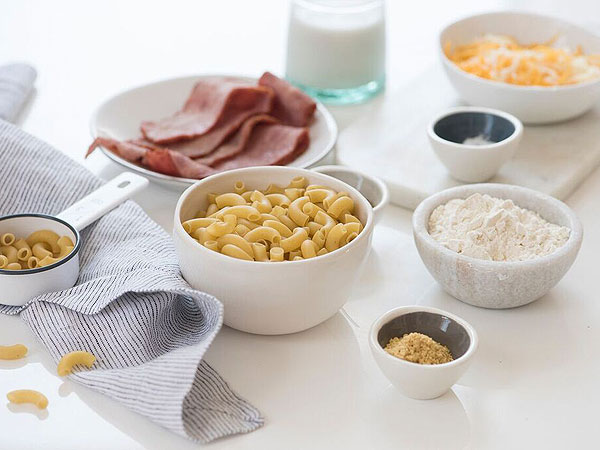 Now for the money shot, add in the cheese to the mixture and cook until it melts completely. Next, mix your cheese with your fully cooked noodles and place it in the oven and bake until crisp - which should take approximately 45 minutes.
Before you know it, you'll have a relatively healthy and wondrously delicious mac and cheese in front of you. Try not to go for thirds and fourths like you usually do when you usually eat pasta. Who ever said you couldn't eat like a Kardashian?