Guy Fieri's go-to breakfast will take you all the way to Flavortown
Guy Fieri, whether you like it or not, is a food god. Not only are his treats the bomb and chalked full of funkalicious flavors, but he is as kind and as generous as they get. I would happily have him in charge of the nuclear codes, even if he isn't that fond of eggs (it's better than having an extra well-done steak drowned in ketchup).
The fact that Guy isn't a big fan of eggs is quite interesting, as eggs make up a massive part of diners, drive-ins or dives, which you'll notice are an integral part of Guy's show entitled Diners, Drive-ins and Dives. How does he manage to curtail the diner-friendly favorite?
For Guy Fieri's go-to "no eggs allowed" breakfast, let's hear from the man himself: "It's gotta be ham and stone-ground grits with red-eye gravy. I'll be making it at the ranch for sure." Grits with bacon crumbled on top are the bees actual knees, but if you're like me, you're probably wondering what red-eye gravy is.
As it turns out, it's a coffee-based gravy, made from the browned bits of the cooked ham, strongly brewed coffee, water, butter and pepper. When you think about it, grits are a blank canvas in terms of flavor, so you can imagine the sweet-salty-roasted gravy makes every bite worth taking.
As Guy is a grilling master, it would be interesting to see how Guy uses this particular cooking tool for breakfast. Guy says: "Grills are definitely underutilized for breakfast. The depth of flavor that you get from charring vegetables and meats is a great foundation for all different types of morning dishes. For example, sausages and steak take on a whole new level when thrown on the grill versus in the frying pan."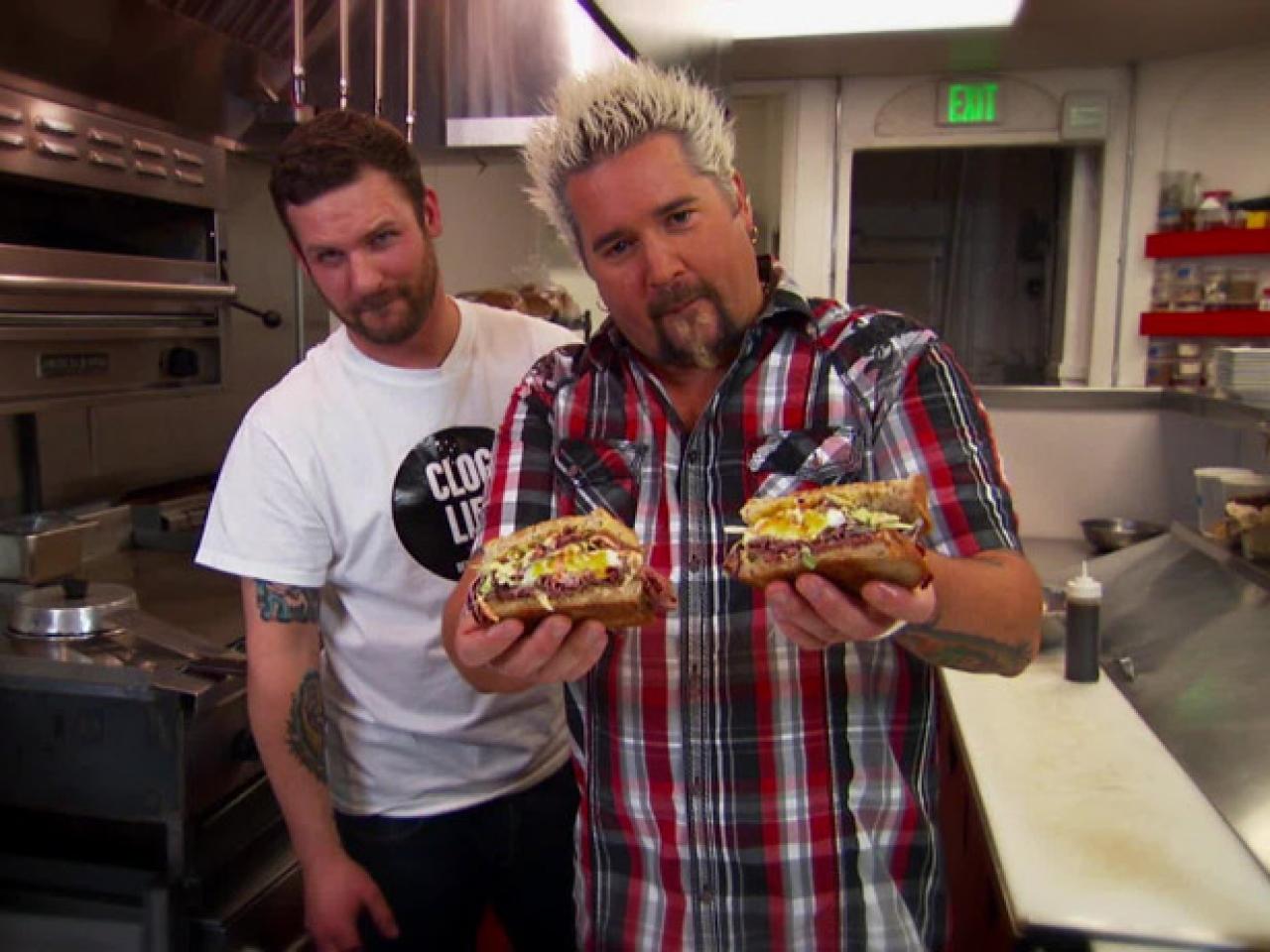 Whether it was due to the lack of eggs or menu or not, Guy's American Kitchen and Bar on Times Square closed down in late December last year, and people were very sad to see it go. It's unclear as to the exact reason Guy's "flagship" closed down, but it was reviewed as the worst restaurant ever by a lot of high calibre critiques (not to mention wannabe Yelp reviewers).
Talking about the official closing, Guy revealed: "I'm proud that for over five and a half years, Guy's American in New York City served millions of happy guests from all over the world. And upon the restaurant's closing, I'd like to say thank you to all of the team members and guests who helped make it all happen."
Even amongst all the hate, the man from Ohio still is a certified legend in the food world. The recent FieriCon is proof of that, where fans came out in their hundreds to embrace the way of the frosted tips. Coming up with the idea while eating Chinese and watching Diners, Drive-ins and Dives, FieriCon's curator, David Gold, said he can't wait for the next year's party, and he hopes to get Guy involved too. Just don't bring any eggs, and we may just yet see this happen.