Domino's forced to apologize after using 'racist' label on a customer's pizza
A woman has criticised Domino's Pizza after her order label made an assumption about her husband's religion. Amber Nasim was picking up pizzas from a branch of the pizza chain in San Leon, Texas.
She requested a clean cut on two of the three pizzas she ordered because her husband, Wajahat, was a Muslim, and she didn't want her mom's pork pizza to mix with his. She found that when the pizzas were handed to her, however, instead of her name, they had labelled all three of her pizzas "Lady with a Muslim husband". On her Facebook, she called out Domino's for being racist.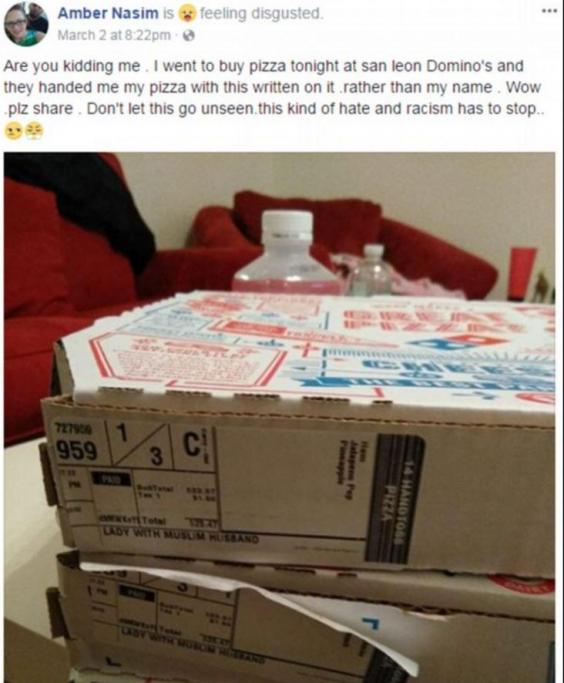 The post read: "Are you kidding me. I went to buy pizza tonight at San Leon Domino's and they handed me my pizza with this written on it rather than my name. Wow plz share. Don't let this go unseen. This kind of hate and racism has to stop."
This is far from the first story we've seen concerning racism in the restaurant industry. Not too long ago, we heard of two friends eating at an Applebee's in Kansas City Missouri wrongly accused of dining and dashing on their bill the previous day.
The duo tried to profess their innocence, but the manager of the Applebee's insisted she was "almost positive" the black girls dining at Applebee's that day were the same ones that supposedly committed the crime the day before.
In Philadelphia, Taco Bell was recently under fire after In Young Lee, a medical student, found that a racist term had been used on his receipt as he tried to buy food after a night out. He had given the worker at the restaurant the name Steve as a way of avoiding him having to spell out his own name - something which in itself is quite bleak to think about - but when it came back, it had "Steve CHINK" written in all capitals.
He confronted the Taco Bell team, but they tried to defend themselves by saying they were differentiating between Steves. The member of staff in question eventually apologized, but subsequently laughed and mocked the student in the kitchen, which he then overheard. In both cases, the members of staff involved were fired, and the company published a formal apology.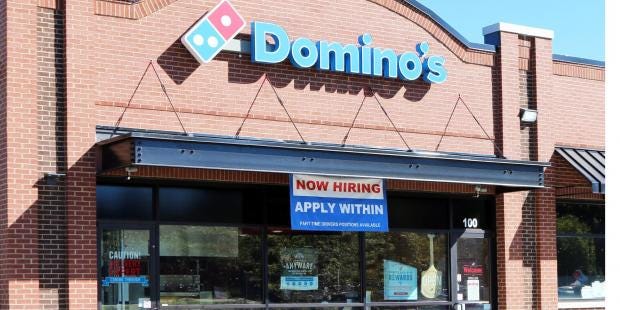 In response to this incident, Domino's released a statement: "As a walk-in customer, we should have asked for her name and number to identify her order, which did not happen on this particularly busy night."
They continued: "a special request she made on behalf of her husband for a clean cut on the pizza, due to religious considerations – which is something we accommodate regularly without issue – should not have been used to identify her or her order. The team member involved has been reprimanded and feels badly about this incident."
Hopefully, this post and all the similar posts, get the message across that there is no room for this ignorance in today's society. Besides, racism just makes your fast food taste sour. Who wants that?