Here are 11 things you never knew about Chipotle, courtesy of an insider employee
Who likes juicy insider secrets, or juicy burritos courtesy of Chipotle? Yes? Good. For today, I will be able to provide you with both (kind of). The famous smoked pepper/ Mexican grill has a lot to say for itself, or rather a Chipotle employee has confessed a few secrets I think are pretty interesting.
Popular menu items, future releases and innovative ways in which you can save time and money, here are 11 things you never knew about Chipotle.
1. The standard burrito weighs over one pound 
It depends on what you put in it, but most burritos are about 20 ounces, four ounces over a pound. It's really up to you, though: have as much or as little as you want in your little bit of wrapped heaven.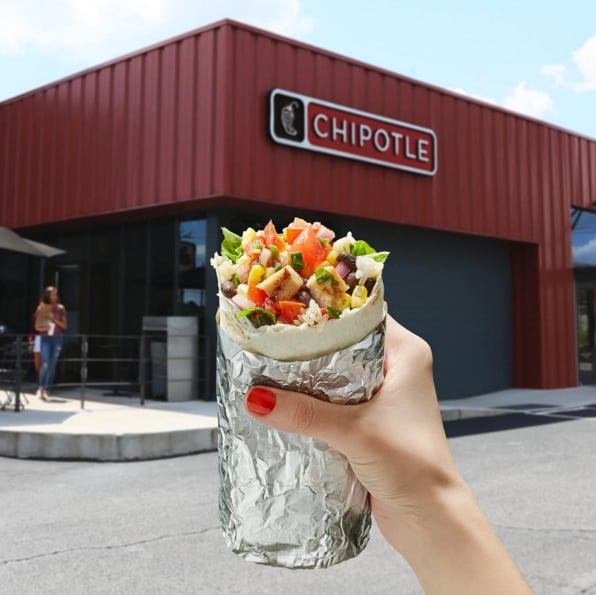 2. There aren't many menu changes, and that's for a reason 
A Chipotle spokesperson explains: "We like to focus on making just a few things but making them extremely well. We do make some changes and expansions on occasion. In 2014, we added our Sofritas, last year we added chorizo, and you may have heard the buzz that we're currently set to begin a new dessert (buñuelos) in very select restaurants, so stay tuned for more on that."
3. There's a way to skip the line 
A lot of people don't know that nearly every Chipotle has an extra make-line in the back of the restaurant where digital orders, both from online and the app, can be prepared. Customers who order digitally benefit from shorter and more accurate pickup times. There's even the ability to reserve a future pickup time. Skip the line, pick up your order, and live your best life.
4. Occasionally you can get some free stuff 
Throughout the year, Chipotle does a number of promotions. There's the annual Boorito Halloween promotion to appreciation days for professions like teachers and nurses. Occasionally, Chipotle offers BOGOFs, or free chips and guac. You can stay up to date with these by signing up for the text and email alerts on the Chiptole web page.
5. The most popular order isn't a burrito
Contrary to popular belief, it's actually burrito bowls that steal the show at Chipotle. Chicken is the most popular meat, and mild tomato is the most popular salsa. Yes, guacamole is a favorite too, and for good reason.
6. The burrito bowl was once a secret menu item
The burrito bowl wasn't even on the menu in the beginning, but was added because customers ordered it so frequently. They used to make the bowls in the same red baskets used to serve burritos, but lined it with foil to make it a bowl.
7. Every bit of food is actually handmade 
The kitchen of any Chipotle resembles that of a fine dining restaurant more than it does a fast food joint. If you peek in, you'll see people hand-frying taco shells, shredding cheese, dicing jalapeños, steaming rice, hand-mashing guacamole and grilling chicken or steak in small batches so it keeps fresh throughout the day.
The chefs cook fresh food using the same skills and techniques used by classically-trained chefs everywhere. The food made in central kitchens is made with exactly the same culinary detail to ensure it tastes as great as possible.
8. Leftovers are donated
Of course, there are careful protocols and practices in place to make sure Chipotle minimizes waste as much as possible. Sometimes it's unavoidable, however, but over the years, Chipotle has partnered with more than 1,275 local community organizations to provide food for those who need it most.
Chipotle is in its 10th year of partnership with the Harvest Program. Through this organization, Chipotle has been able to donate enough food to more than seven million meals throughout the country.
9. Chipotle is the only national restaurant brand with no funny ingredients
Chipotle is made up of 51 whole, unprocessed ingredients. They have accomplished that with the introduction of new tortillas, which are free of any additives, natural or artificial. Chipotle is now the only national restaurant brand with no added flavors, colors or preservatives in any of its ingredients used to make the food.
10. Chipotle goes way beyond fresh ingredients 
On top of ensuring the ingredients are hand-prepared and don't contain any funny things, Chipotle is committed to serving meat from animals that are raised in more humane ways, and without the use of antibiotics or added hormones. When available, they use local and organically-grown veggies, and they source cheese and sour cream made with milk from pasture-raised dairy cattle. The ingredients used to feed the animals are not genetically modified either.
11. The brand doesn't plan on giving out any other signature recipes
Yes, it gave out their famous guacamole recipe, but this is nothing in the grand scheme of things. A Chipotle spokesperson was gleefully quoted as saying: "a perk of only using real, whole ingredients are that you can find everything we use on our menu at your own grocery store. But when it comes to the amount of each ingredient in a recipe — well, we've got to keep a few secrets."
Hopefully, you're not craving burritos too much after reading these intriguing facts. Sorry I can't do anything about the fact guac is extra, but at least you know it's fresh so it's worth it. Congratulations on the pending food baby.